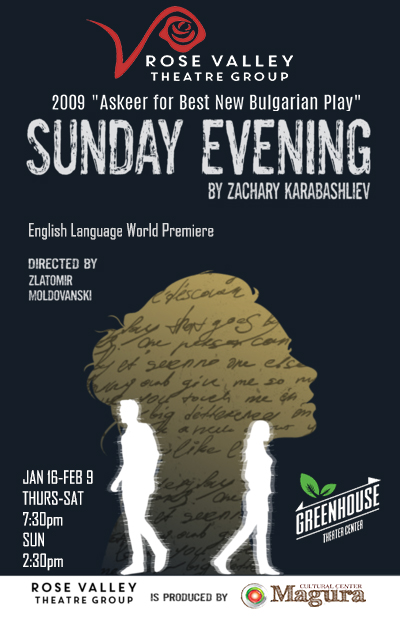 English Language World Premiere
Directed by ZLATOMIR MOLDOVANSKI
MAGURA BULGARIAN COLLECTIVE SPACE proudly presents Rose Valley Theatre Group the newest addition to Chicago's thriving theatre community
Under the artistic direction of Bulgarian-American actor and director Zlatomir Moldovanski and team of American actors and directors Bernard Balbot, Logan Hulick, and Reginald Robinson, Rose Valley is an assembled collective of multi-disciplinary professional theatre artists committed to bridging the international divide by adapting and producing plays by underrepresented voices abroad and within the US.

It is our hope to cultivate relationships with favored international playwrights in an effort to expose American audiences to their canon. While Chicago has a plethora of international theatrical voices, there is a void of modern Bulgarian work on its stages. The plays that appear in Bulgarian theatre are truly groundbreaking, which is why we want to guarantee for at least one of our annual productions to be by an award-winning Bulgarian playwright. The rest of our work focuses on works from similarly undiscovered theatrical traditions from around the world. We are proud to have the Bulgarian- American Cultural Center & Library - Magura as our partners and producers on this exciting venture. Rose Valley Theatre Group provides a platform for vital new international work, both here in Chicago and abroad. These new translations and adaptations are a privilege for us to present and we hope to continue building bridges for this work and our audiences.

THE TEAM
Zlatomir Moldovanski (Director)
Is a Bulgarian-American theatre artist who started his professional journey as a child actor on the boards of the Plovdiv Drama Theatre, one of the oldest and most prominent theatre companies of the Balkans. In North America, he has worked for the Stratford Festival of Canada, Looking glass Theatre, Creede Repertory Theatre, Asolo Repertory Theatre, Profiles Theatre, The Drilling Company for New Plays, New Stage Collective, Level 11 Theatre, the CBS Primetime Series Madam Secretary and the Canadian film Romeo and Juliet. He has performed his one-man play Is It Feasible?, based on the short stories of Bulgarian writers Chudomir and Elin Pelin, in Florida, New York, Colorado, Chicago, Minnesota, Ohio, and Ontario. He is also an acting instructor, specializing in the Nikolai Demidov Organic Technique, brought to North America by Professor Andrei Malaev-Babel. Zlatomir teaches Demidov at institutions such as the Asolo Conservatory, the Ringling College of Art and Design, the University of Cincinnati, the New College of Florida, and the State College of Florida. He is a graduate of the Birmingham Conservatory for Classical Theatre, the FSU/Asolo Conservatory for Actor Training (MFA), and the College-Conservatory of Music (BFA). Proud member of AEA and CAEA..

Bernard Balbot
Is a Chicago-based producer, director and union actor. As a performer, he has been seen on Chicago stages such as Writers Theatre, Chicago Shakespeare Theatre, American Theater Company, Jackalope Theatre Co, and Victory Gardens. Regional credits include productions with American Conservatory Theater, Asolo Rep, Milwaukee Rep, Hangar Theater, and Arizona Theater Company. He has enjoyed directing projects for short play festivals, educational theater, and new plays in both the U.S. and Canada. Bernard is the current Director of New Play Development for Jackalope Theatre Company and an Associate Producer with Fox Dog Consultants. He is a graduate of Carnegie Mellon University School of Drama and NTI's Moscow Art Theater School program. Rose Valley Theatre Group provides a platform for vital new international work, both here in Chicago and abroad. These new translations and adaptations are a privilege for us to present, and we hope to continue building bridges for this work and our audiences.
Reginald Robinson Jr.
Is a classically trained actor who has performed in roles ranging from Shakespeare to more contemporary artists. Some of his credits include Pericles, Romeo and Juliet, and Henry V (Muse of Fire Theatre), Forty-Two Stories (City Lit Theatre), Hellcab (The Agency Teater Collective), dirty butterfly (The Blind Owl Theatre Company), Tommy J and Sally
(Studio@620), and Fences (American Stage Theatre).
Reginald received his MFA from the Florida State University's Asolo Conservatory and studied with Patsy Rodenburg in London. He recently found himself as the assistant director of Alexandar Sekulov's Bulgarian drama, There is No Power for the Electric Chair, which opened him up to all new perspectives, voices, and stories that he wants to have seen and heard.


Logan Hulick
Is a Chicago based actor, director, improviser and writer. He currently teaches at The Second City and is a proud company member of Trap Door Theatre. As a performer, his most recent Chicago credit includes the U.S. Premiere of There Is No Power for the Electric Chair by Bulgarian playwright Aleksandar Sekulov. Other recent Chicago theatre credits include Sad Happy Sucker (Trap Door), Odessa (The Right BrainProject), Bachelorette, The Irish Curse, SubUrbia (all with Level11Theatre), and Extraordinary (Otherworld Theatre). Recent Film/Television credits include Chicago P.D. (NBC Universal) and The Mix (Flashpoint Chicago). Logan is represented by Paonessa Talent Agency. He is a graduate of The Second City Conservatory, i.O. Chicago Training Center, and has studied Meisner at Black Box Acting Studio. He is very excited to be a member of the Rose Valley Theatre Group as we bring more international voices to American audiences.
Our commitment to the exiting new project with Rose Valley Theatre Group is honest presentation and negotiations; leadership and management; planning and organization; finances; creativity and vision; great support. SUNDAY EVENING
By ZACHARY KARABASHLIEV
Directed by Zlatomir Moldovanski
Two families, lost in deep conflict, misunderstandings, and personal betrayal. Rose and Nick are an immigrant couple trapped between the demons of their past and betrayal of the present. Their turmoil is witnessed by Stella—an actress bereaved of any recent success but plagued by the memories of her effulgent past. The main reminder of those glorious early days is their victim—her daughter, who must resort to manipulation in order to receive love, understanding, and affection that is long overdue. A play that intertwines and juxtaposes the illusion of the "American Dream" with the reality of everyday existence.
*Sunday Evening will be performed in ENGLISH

More Information >>>
Sunday Evening was first produced at Theatre "Sofia" and received the 2009 "ASKEER for Best New Play" (the highest dramaturgical honor in Bulgarian theatre).
In Memoriam: This production of Sunday Evening is dedicated to our dear colleague and masterful artist,Bulgarian actor Ivan Laskin who originated the role of Nick on the stage of Theatre "Sofia".
SUPPORT US
Professional, artistically empowered theatre depends on the support of its patrons, partners, and donors. Our mission and commitment to our audiences, playwrights, actors, designers, and directors require us to turn to the engagement of the community in Chicago and beyond. Magura Bulgarian Collective Space, producers of Rose Valley Theatre Group, is a 501c3 charitable organization, and your tax-deductible contribution is invaluable to our efforts of continuously bringing groundbreaking international plays to Chicago and producing them to the highest standards of artistry and professionalism. Live theatre thanks
you for your support!


Actors who wish to be considered for our productions can send their headshots and resumes to rosevalleycasting@gmail.com
All other inquiries, including play submissions, can be sent to rosevalleytheatre@gmail.com

CONTACT US
Rose Valley Theatre Office
Magura Bulgarian Collective Space
415 W. Golf Rd.Ste. 7
Arlington Heights, IL 60005
☎️ 1.224.800.1538 | magurabcs@gmail.com